Graphic design, brand strategy, web design and development, servicing the Coffs Coast and Australia wide.
Click below to see what the results look like.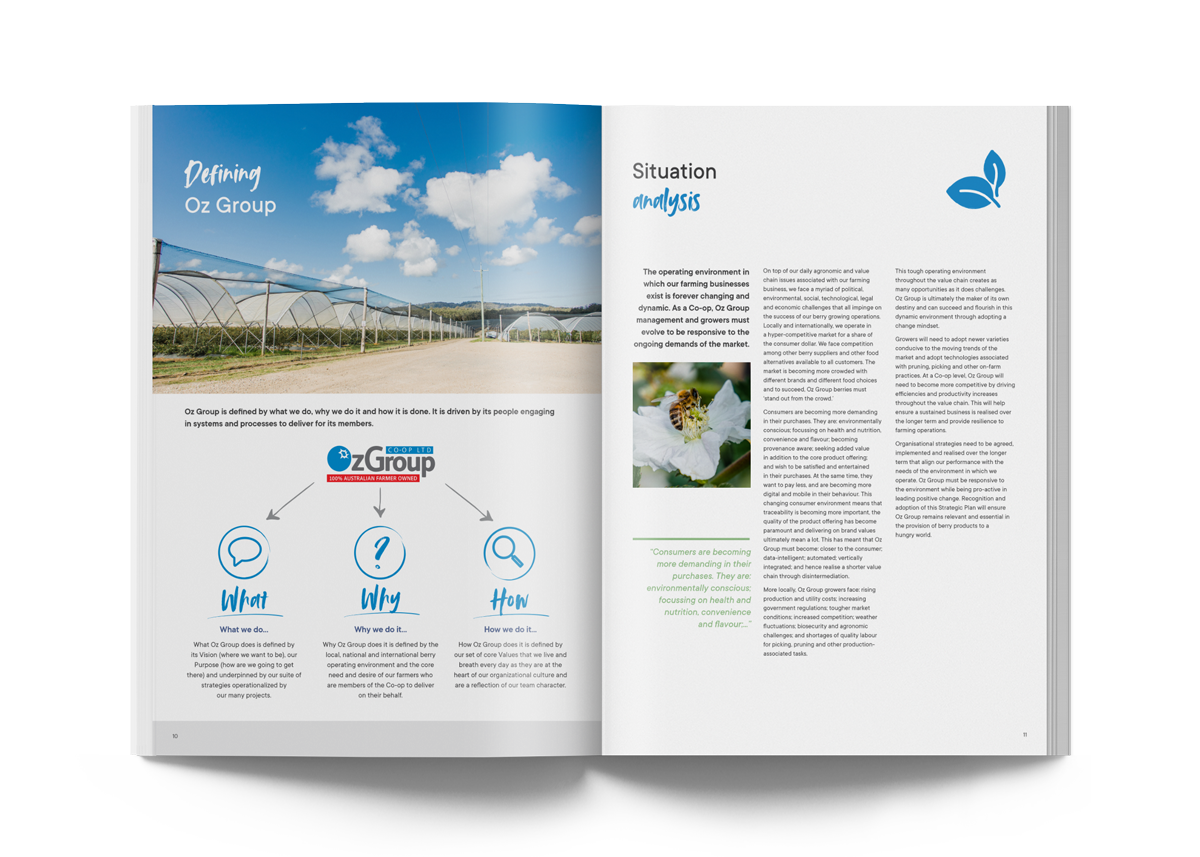 Publication design
We help take your content and turn it into the printed experience you envisage and beyond. From corporate documentation like annual reports to promotional material that will help your brand shine.
Brand development
The mechanism your business uses to connect with your audience couldn't be more important. That's why we take a holistic approach to develop our clients' brands.
Packaging design
Packaging design for innovative Australian products.
We pride ourselves on building valuable relationships with our clients. Here's what they have to say about working with us:
I have engaged Narelle Hallam from Munch Design for a number of graphic design projects over the last 10 years, and she has always hit the mark.
Her creative interpretation of a brief is both compelling and insightful. She moves easily between the requirements of the corporate view to sophisticated design with an edge.
By having a designer the calibre of Narelle, I know I will always have a great result delivered on time.
Helen Kostiuk
Senior Manager Communications and Public Relations
Western Victoria Primary Health Network
Luke was my third web developer and I chose Munch Design for their holistic approach. Luke took the time to understand my business, my services, industry and my needs.  This means that everything delivered to me has been on point, and all options provided are given with a professional opinion and recommendation.
I barely need to request any changes due to his in depth understanding of my business.
Luke goes above and beyond what I would have expected, providing urgent assistance when I have needed, and additional support.  I highly recommend Munch Design for a holistic service.  I just don't have a website, I have a brand, and Munch feel like a part of my 'team'.
Fiona McCord
Base Legal
I approached Luke Hallam to create a website for my business in March 2013. I had a few ideas about the sort of website I needed and had a budget set aside for the project. I felt confident when I met Luke as he was quickly able to grasp what it was that I needed, making me feel confident that I would get the outcome I desired.
At all times whilst working on this project I found Luke to be extremely knowledgeable and helpful regarding aspects of the website design process. He was very approachable, flexible and easy to liaise with at all times.
It was a relief for me to have someone capable handling this vital aspect of my new business.
The website design Luke developed looks professional, is attractive and easy to navigate both for the user and for me as administrator. I have had very positive feedback from clients and visitors since it was launched a few months ago. I am very happy with the final product!
Jane Robotham
Soul Clarity
We have used Munch Design for many years now and have always found Luke to be very creative with his ideas, presentation and colour selection, from advertising, company image to website development.
We have loved what he has recently done to update our tired website into a much more user-friendly version that I am able to make changes to very easily.
Thanks for your help.
Simone Shaw
Ocean Road Landscaping
Through word of mouth, we were given the details of Munch Design an extremely creative web design company on the southern shores of Australia. Luke was great to deal with via meetings, phone conversations and via email. From the start, I realised that Munch Design would definitely be the correct company to get our business Top Cat Signs and Designs out there to the world. www.topcat.com.au  Think web design, think munch.
Brent Grimmer
Top Cat Signs and Designs
Munch Design developed a website for a new business launch.
They delivered exactly what we were looking for after just one design brief.
He has continued to respond to the changing needs of our business as it has grown and has always proven to be reliable and on hand for support. We wouldn't hesitate in recommending Luke and Munch Design.
Travis Ashford
Braille Sign Supplies
Looking for a creative agency that will listen to your business needs? We collaborate with businesses to deliver successful outcomes. We get a kick out of watching our clients grow, it keeps us coming back for more and we believe businesses thrive on long-term creative relationships.
Book a free 15 minute strategy call to see if we'd be a good fit to move your business to the next level.